Engineering and environmental geophysics

Geophysical investigation methods are essential tools in environmental research and geology. Our spectrum of services includes the investigation of natural geological structures, e.g. in pilot surveys for dike construction work. Further application in civil engineering are for example utility detection or materials research. For further information about geophysical methods in engineering science and geology, see below.

Fields of APPLICATION

Geotechnical Investigations - Flood protection
Non-destructive Testing (NDT)
Cavity Detection
Utility Detection
GeotechniCAL INVESTIGATION - FLOOD PROTECTION
NEW TECHNOLOGIES IN FLOOD PROTECTION

Today geoelectrical measurements are a standard method for dike investigations. Therefore a number of longitudinal geoelectric profiles is mesured beside and on top of the dike. Up to several kilometers can be realized in one day of field work. Detailed investigations are carried out by means of IP soundings, geoelectrical cross-sections including microtopographical survey and
3D Electrical Resistivity Tomography (ERT). The latter
yields very precise images of
complex underground structures.
Flooding of River Elbe in 2002

Geotechnical section of a dike
3D INVESTIGATION OF GEOLOGICAL BARRIERS
Location and material parameters of natural geological barriers are investigated using the Eletrical Resistivity Tomiography (ERT). The geophysical data helps to find optimal drilling sites reducing exploration and remediation costs.
EXPLORATION OF MINERAL RESOURCES

Near-surface geophysics is widely accepted in the exploration of mineral resources like sand, gravel and clay. Furthermore electric and magnetic methods are applied in the search for ore deposits. They are also used to define sediment structures or the depth of the basement rock. Geophysical prospection results allow optimal sites for drilling and sampling to be found.

Geological section in mining area

NON-DESTRUCTIVE TESTING (NDT)

LOCATION OF CONSTRUCTION ELEMENTS
The ultrasonic method and the high-frequency GPR are effecttive tools in the field of Non-destructive testing (NDT). Thereby GPR is a unique device when it comes to concrete inspection and reinforcement detection. Multi-frequency investigations are possible and ensure reliable results.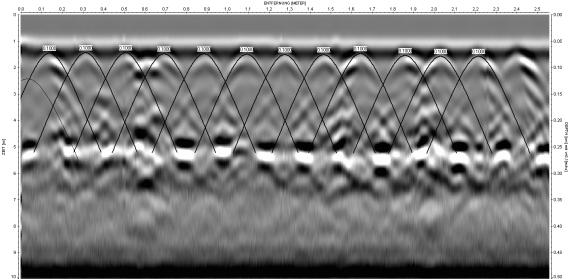 Turnbuckles in prestressed concrete detected by GPR
CAVITY Detection

DETECTION OF NATURAL AND ARTIFICIAL CAVITIES
Disused mines pose threats due to unknown cavities in the ground. In built-up areas geophysical methods are often the only possibility to assess subsidence damages. To locate cavities and delimit areas of secondary effects like fracture zones we apply Electrical Resistivity Tomography (ERT).


Geoelectrical measurements on pavement
UTILITY DETECTION

CABLES AND PIPES (METALLIC AND NON-METALLIC)
Network plans are not necesarrily accurate. Incomplete information on cables and pipes can result in misguided digs and infrastructure damage. For utility detection magnetic and electromagnetic methods are useful in the case of metallic pipes and cables. GPR is the best choice to locate non-metallic objects.
Utility detection by geomagnetic mapping (area 50 m x 50 m)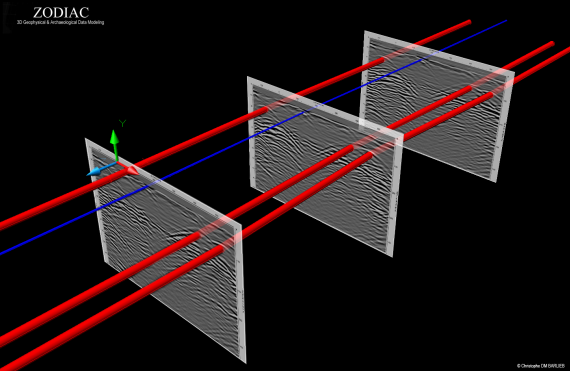 Network of pipes according to GPR data


CONTACT

Burkart Ullrich, Cornelius Meyer (info@eastern-atlas.com

)