Roman life in Baetica
| | |
| --- | --- |
| Project | Geophysical prospection amd virtual reconstruction in Munigua |
| Location | Castillo de Mulva near Villanueva del Río y Minas, Seville, Spain |
| Period | Roman Empire, 1st to 4th century AD |
| Methods | GPR, IP geoelectrics, virtual reconstruction |
| Client | DAI Madrid, Dr. Thomas Schattner |
Terraced sanctuary of Munigua

IP geoelectrics on slag heaps

Location of Casa de
Alcántara 3 (Photo: DAI Madrid)
OBJECTIVES
The Roman municipium of Munigua is located in the oak woods of the Sierra Morena, north of Seville (Spain). It covers an area of only 4 hectares. The
impressive terraced sanctuary dominates the
town's skyline.
GPR measurements were used to clarify the course of the city wall of Munigua. Additionally, buildings lying outside the city wall were to be located and investigated.
Another question was the quantification of slag heaps in and around the city. The amount of slag should help to evaluate the economical base of the Roman site.

COMPLETED WORKS and results

The GPR measurements on the city wall yielded important results on the construction history of the site. At a distance of about 1 km from the actual urban area two additional areas were surveyed housing the remains of rural constructions. This resulted in the discovery of Casa de Alcántara 3.

The GPR data of Casa 3 were used for a virtual 3D reconstruction realized by
the architect Christophe Barlieb
. The model provides a base for planning of excavations and conservation. (See also: ZODIAC )


GPR timeslices of
Casa de Alcántara 3
Virtual 3D model of
Casa de Alcántara 3
(By Chr. Barlieb)
The results of 3D geoelectrical investigations recording resistivity and IP effect were transformed into volume models of the slag heaps allowing the calculation of the amount of metal produced in Roman Munigua.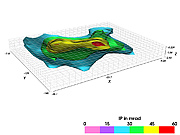 3D volume model of a slag heap
based on geoelectrical IP data

Contact
Cornelius Meyer (meyer@eastern-atlas.com )
Burkart Ullrich (b.ullrich@eastern-atlas.de )
Christophe Barlieb (c@barlieb.com )
Dr. Thomas Schattner, DAI Madrid (schattner@madrid.dainst.org )


links
Further information on Munigua: (www.dainst.org )